This report spotlights the UK Business Services sector for Q4-2020, aggregate sector valuations and private market activity. We have summarised our report below but, if you are interested in viewing the full document, click here to read more.
Business Services performance has been a tale varied by subsector as each been affected by the pandemic in a different way.
COVID-19 and political uncertainty are the key themes driving the industry with markets projecting valuations to remain flat through 2021.
Public Company Valuations
Listed comparables can provide a good indication of value for the private company owner. We have selected all UK listed companies within marketing, business process outsourcing, legal services, facilities management and equipment rental as an indication of the "UK Business Services" industry.
Revenue and EBITDA multiples range significantly between the cateogires. We expect tech-enabled businesses and those which have been less affected by the pandemic to trader higher multiples.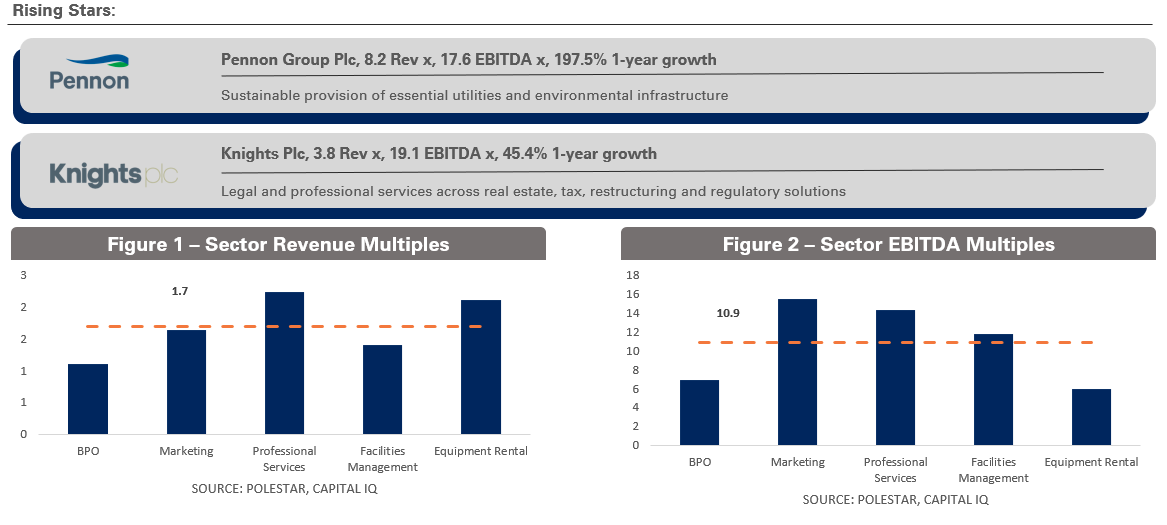 Forward Multiples
Forward multiples are calculated with the present enterprise value of the business against City analysts' forecast revenue and ebitda (one year from now). As such, it is an indication of the "consensus"* forward valuation
*Consensus represented by the analysts estimates
In Q4, IHS Markit's services PMI** showed reduced confidence of 49.4 for December 2020, down from the expansionary indication of the previous Q3 print (57.1).
**Purchasing Managers Index 
This reduction was driven by shrinking client demand and trade restrictions put in place due to the pandemic. In addition, total new business declined for a third consecutive quarter, primarily due to lower export sales driven by Brexit uncertainty.
Valuation Multiples vs Revenue Growth & Profitability Margins
Using our sample we plotted revenue / EBITDA valuation multiples against historic growth and margin respectively to provide an insight into how the market is reacting to growth / profitability:
Note: The sample is entirely comprised of public companies which are relatively mature compared to generally smaller, private businesses. Although the correlation between margin and multiples looks to be very clear, it isn't as straight forward as the equation suggests. As such, when looking at smaller companies, the impact of margin on valuation is often much less noticeable and primarily driven by total addressable market, revenue growth and other qualitative factors
Private Market Activity
Deals were spread out across business services, with an average of 25 completing each quarter, and marketing being the most active segment.
As expected, precedent transactions command slightly higher multiples than public companies, in part due to the control premium.
If you are interested in digging into the data, or seeing some of the key selected private transactions- check out the full document below:
click here to download.
The full report can be downloaded using the link in this post. Our data is sourced from a mixture of Capital IQ / Zephyr which are both reputable databases for M&A transactions across the globe. If you have any questions about our findings or would like to discuss how these trends may affect your business, feel free to reach out to us for a virtual coffee.