Business Services Overview
Listed players in the business services sector performed well, with only minor drops in revenue and EBITDA multiples in most sectors linked to COVID-19. Marketing and Communications has dropped significantly over the same as there have been larger falls in EBITDA which are forecast to return as confidence to spend in this area increases.
A reduction in forward multiples is in part due to listed company valuations not declining in proportion to the reductions in EBITDA. Consequently, as EBITDA returns and the valuation do not increase proportionately then forward multiple reduce.
The private sector deals remained active throughout the past 12 months with large deal activity predominantly within Business Process Outsourcing and Professional Services
Polestar and other market participants are seeing a strong increase in both multiples and M&A activity.
Business Services Sector on Listed Markets
As we progress past the halfway point of 2021 the impacts of the pandemic are still to be examined across all sectors of UK business. As profits return, we see a decline in all multiples as this return has already been priced in.
From our analysis several conclusions can be made about the health of the various subsectors:
Logistics and Distribution performed well in FY20 and H121 due to increased online shopping allowing industry wide growth, now stagnating as consumers return to shops.
Facilities management had a slow first half as offices remained closed however as professionals return to offices, we can expect a sharp bounce back supported by investment.
One example is new £1.6bn contracts minted by the MOD* for external management across 400 sites and 31,000 units.
Marketing and Comms saw a 40% pullback in EBITDA multiples which is attributable to marketing budget cuts. Companies are once again investing in Marketing and Comms and EBITDA is expected to recover
Business Process Outsourcing saw small declines in EBITDA generation but performed well overall as data management service demand increased. Polestar predicts continued growth in the sector as global SaaS and networking investment continues to rise.
Equipment Rental's close ties with construction aided the sectors revenue generation in H121. New infrastructure spending, such as the US $1.2 trillion plan, will continue to support the UK's multinational equipment rental businesses in the years to come.
Growth Rates, Multiples and Margins
We have plotted revenue/EBITDA valuation multiples against historic growth to provide insight on how the market is reacting to growth/profitability. The two-year growth period covers July 2019 through 2021. The three-year growth period covers July 2018 through July 2021.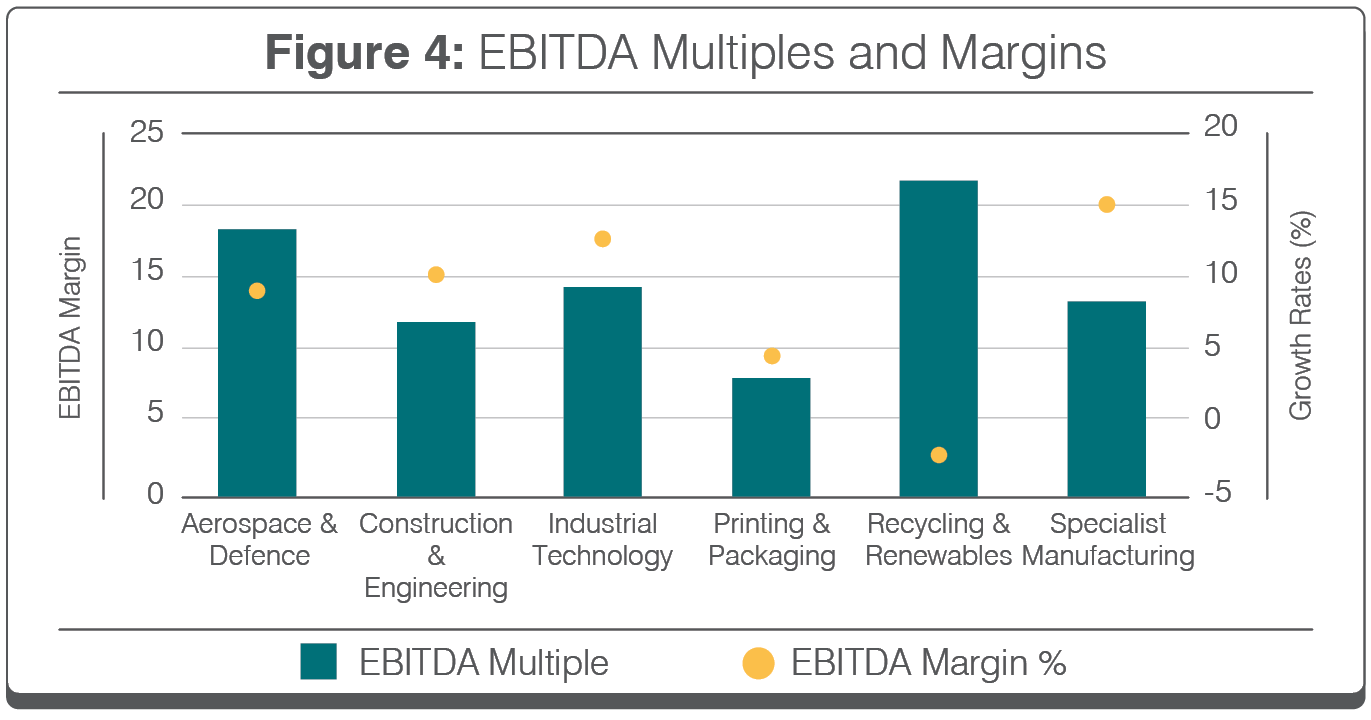 Growth rates across the business services sector remained fairly uniform for all subsectors except Marketing and Comms reflecting long term growth trends in the industry with the effects of COVID integrated as well.
Marketing and Comms struggled in H121 as discussed. Large disparities between 2Yr and 3Yr growth rates reflect our comments, however, Polestar predicts returns to pre-pandemic levels as companies shake out COVID related revenue shocks.
Professional Services remained steady due to consistent service demand. However, COVID-19 has intensified skill shortages across professional service providers.
Research suggests overall sector output could be 12% (£38bn) higher by 2038 if gaps are filled.*
Equipment rental's strong EBITDA margins reflect the industry-wide shift to rental over outright purchase, as well as the benefits of modern, efficient, and ESG compatible equipment. Our previous comments are also supported by 2-year and 3-year growth figures as future infrastructure development projects provide a positive market outlook
Stand Out Examples Industry Participants 
For operators in the business services sector, the following leading players illustrate the high growth and valuation metrics that can be achieved across this space.
 Private Company Metrics 
BPO and Professional Services' deal volume leads the sector as continued service demand and high margins allow continued M&A activity.
Equipment Rental's success in 2020 and H121 is allowing organic growth within the market leading to low deal volumes.
Following, early growth in Logistics and distribution, M&A volume can be attributed to market consolidation as the industry stagnates.
A similar trend can be seen in Marketing and Communications as market consolidation is following the industry's slow start to FY21.
Polestar and other market participants are seeing a strong increase in both multiples and M&A activity.